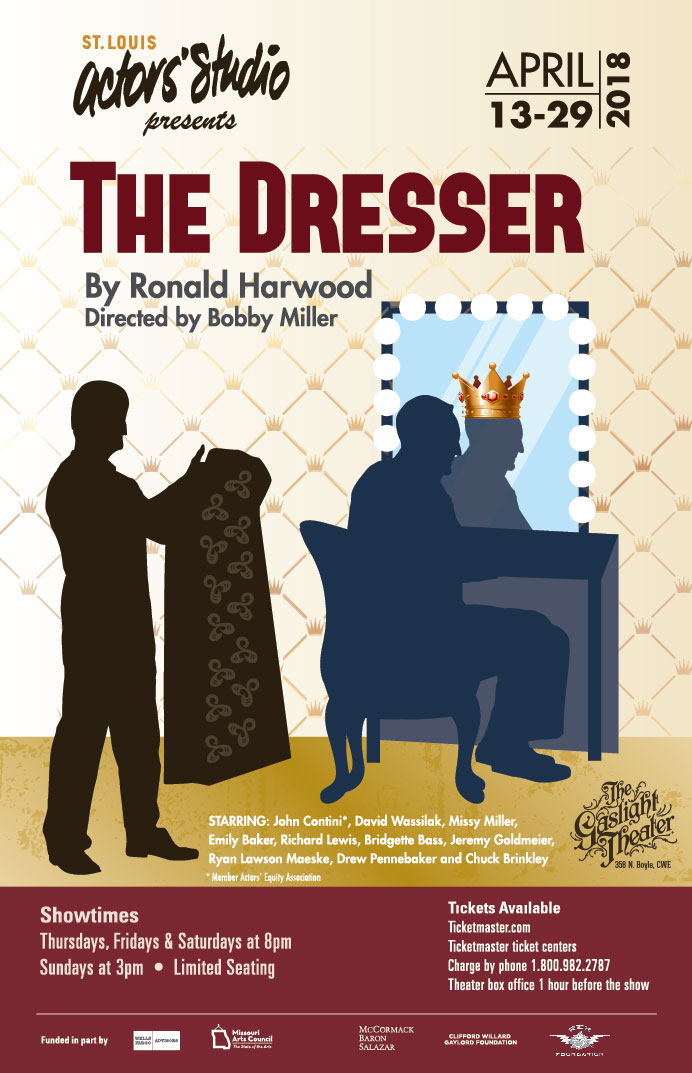 The Dresser
Playwright: Ronald Harwood
Directed by: Bobby Miller
Based on the author's own experiences as dresser to Sir Donald Wolfit, this bracing, heartbreaking drama is an elegy to a by-gone era. Backstage at a theatre in the English provinces during WWII, Sir, the last of the great breed of English actor/managers, is in a bad way tonight, as his dresser Norman tries valiantly to prepare him to go on stage as King Lear. Unsure of his lines as well as who and where he is supposed to be, Sir is adamantly determined to roar his last. With Herculean effort on the part of Norman, Sir finally makes it on stage and through the performance no thanks to an air raid courtesy of the Luftwaffe. Back in his dressing room after the performance, the worn out old trouper dies, leaving alone his company and the loyal dresser after one final bow.                      
Cast
Sir- John Contini*
Norman - David Wassilak
Her Ladyship - Missy Miller
Madge - Emily Baker
Geoffrey - Richard Lewis
Oxenby - Chuck Brinkley
Irene -  Bridgette Bassa
Lear's Men: Jeremy Goldmeier and Anthony Heinemann.
*Member Actors' Equity Association
Reviews
"The Dresser" is part of that heritage now and it will join the ranks of outstanding theatre produced in Gaslight Square over the years."
Steve Allen, Stagedoorstl
"Wassilak and Sir (John Contini) prove the value of theater again and again. The Dresser is alive, magnificently so. Hail the baleful king and his knowing fool."
Paul Friswold, Riverfront Times
"Beautifully Modulated Performance"
Judith Newmark, St Louis Post-Dispatch
Bravura performances by John Contini as Sir and David Wassilak in the title role propel director Bobby Miller's studied and affecting rendition by St. Louis Actors' Studio of Ronald Harwood's sad but also funny tale of life in the theatrical trenches."
Mark Bretz, Ladue News