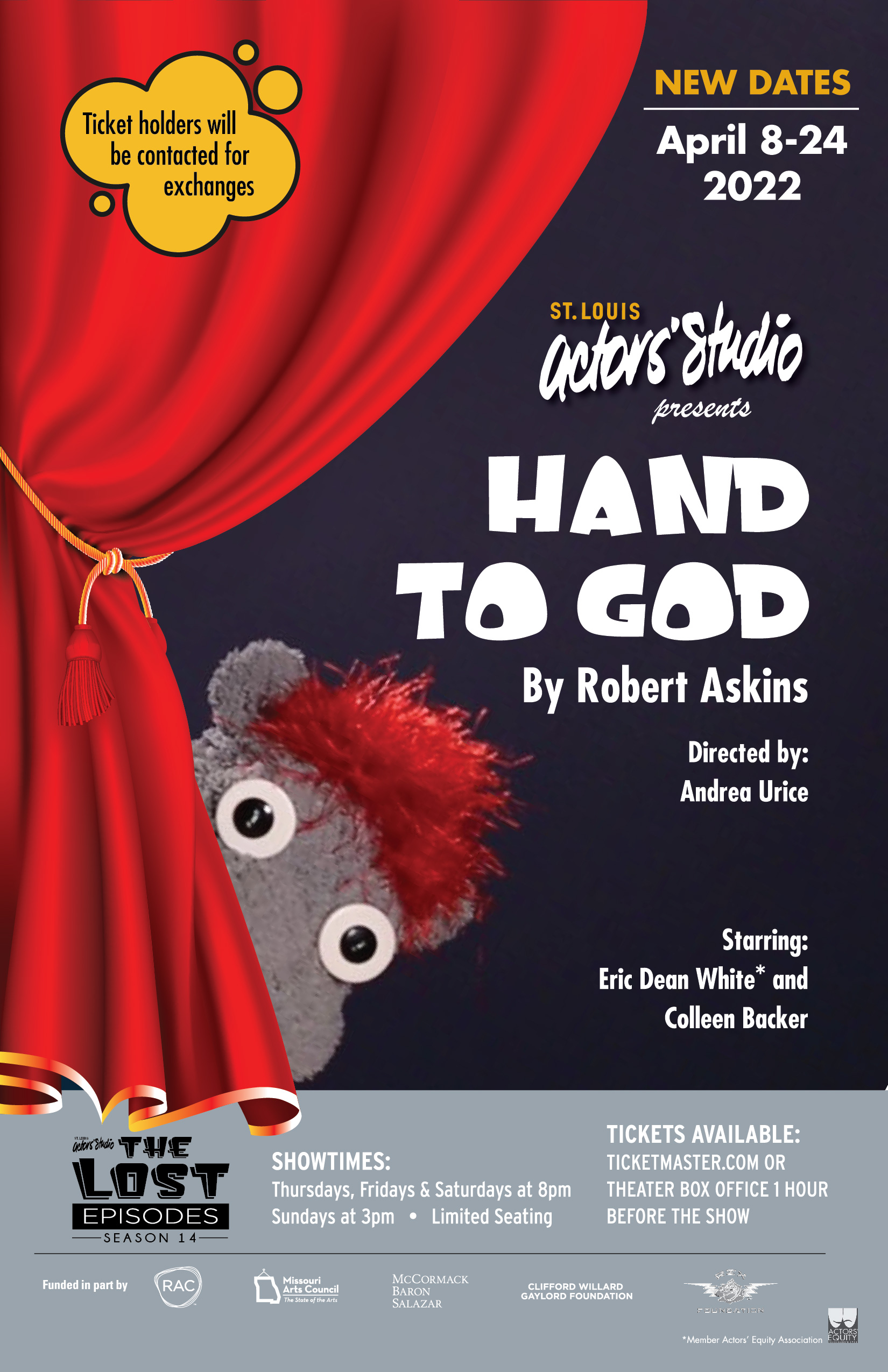 Hand To God
Playwright: Robert Askins
Directed by: Andrea Urice
After the death of his father, meek Jason finds an outlet for his anxiety at the Christian Puppet Ministry, in the devoutly religious, relatively quiet small town of Cypress, Texas. Jason's complicated relationships with the town pastor, the school bully, the girl next door, and—most especially—his mother are thrown into upheaval when Jason's puppet, Tyrone, takes on a shocking and dangerously irreverent personality all its own. HAND TO GOD explores the startlingly fragile nature of faith, morality, and the ties that bind us.
Starring Eric Dean White* and Colleen Backer
Reviews
T"'Hand to God' at St. Louis Actors' Studio is Hands-Down Hilarious- a Fascinating and Must-See Experience"
Calvin Wilson, St. Louis Post-Dispatch
"The Cast is Top-Notch, Particularly Henry-Eagles in His Double Role, Jason and Tyrone. Backer and White are, as Always, Polished. Richards is Appealing and so is Rotker,."
Judy Newmark
"As Edgy as St. Louis Actors' Studio Can Get, this Brazen Work is Unlike Anything You Have Previously Seen in the Intimate Gaslight Theatre. The laugh-Out-Loud Guffaws are as Frequent as the Jaw-Dropping Gasps."
Lynn Venhaus, POPLifeSTL
"Art Imitates life in This Fine Local Premiere by St. Louis Actors' Studio at the Gaslight Theatre.."
Richard Green, Talking Broadway