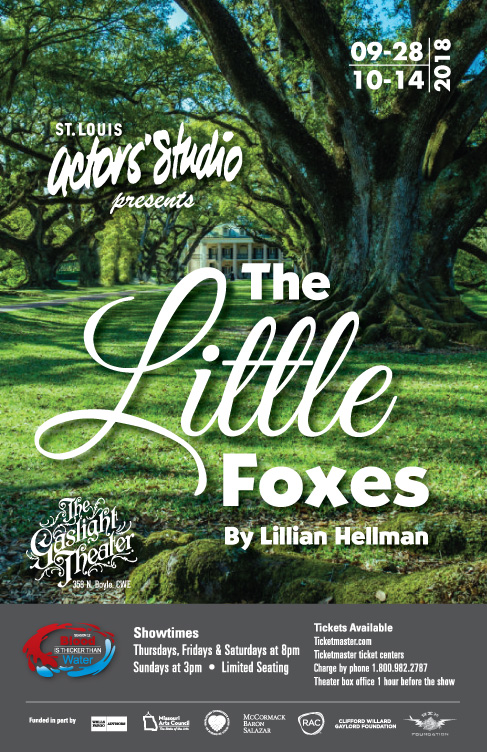 The Little Foxes
Playwright: Lillian Hellman
Directed by: John Contini
Lillian Hellman's legendary play about greed and ambition. Set in Alabama in 1900, The Little Foxes follows Regina Giddens and her ruthless clan, including her sister-in-law Birdie, as they clash in often brutal ways in an effort to strike the deal of their lives. Far from a sentimental look at a bygone era,the play has a surprisingly timely resonance with important issues facing our country today. (Manhattan Theatre Club)
Starring: Kari Ely*, Laurie McConnell*, WIlliam Roth*,  Bridgette Bassa, Wendy Greenwood, Chuck Brinkley, Bob Gerchen, Richard Lewis, Ryan Lawson-Maeske and Dennis Jethro II.
*Member Actors' Equity Assoc.
Reviews
"Nothing Little About These Foxes' Talent..Excellent Production."
-Kevin Steincross, Fox 2
"Contini Elicits Strong Performances From a Splendid Cast"
-Calvin Wilson, St. Louis Post-Dispatch
"Fascinating Story Beautifully Told By a Large and Talented Cast"
- Paul Friswold, Riverfront times
St. Louis Actors' Studio Offers Superior Rendition of Hellman's 'Little Foxes, 5 out of 5 stars!
-Mark Bretz, Ladue News
Stills