Season 14
 We are proud to present the world premiere of Hanna Kime's Zoom Play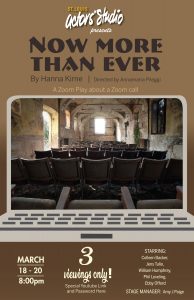 March 18-20, 2021
Directed by Annamaria Pileggi
3 Showings only, exclusively to our season subscribers and email list.
Subscribe HERE to get the special viewing link.
Listen to Playwright Hanna Kime and William Roth Talk With Ray Hartmann-KTRS Radio HERE
Hanna Kime is a Chicago-based playwright. Recent works include THE TARGETED (2020 O'Neill Finalist, 2021 BAPF Semifinalist, Selected for Broken Nose's "Off/Nights" Development Series), THE BEST DAMN THING (2021 O'Neill Semifinalist, Selected for the Up: Renewal Reading Series), and DROP (Produced through Side Street Studio Art's Going Dutch Festival). She has been fortunate enough to develop her full length works with Jackalope Theatre Company, Sideshow Theatre Company, The New Colony, Broken Nose Theatre, and First Floor Theater, where she currently serves as Literary Manager. She is a member of the Wampus Cat Collective. She graduated from the University of Chicago in 2018 with degrees in English and Gender and Sexuality Studies.
Colleen Backer (Becca McGuire) last performed with SLAS (in the Before Times) in the 2019 and 2018 LaBute Festivals, most notably as playwright Carter W. Lewis in "Kim Jong Rosemary," and in Michael Long's debuts of "The Gettier Project" and "Color Timer." During quarantine she's been fortunate enough to have performed in several "Zoom plays," including some Shakespeare and appearing as "George" in The Players Theatre (New York) livestream of "The Quarantine," also penned by Michael Long, who she is clearly monopolizing and mind-controlling. Thank you to Anna, Amy, William, Patrick, Amy (she should be thanked twice), John, the wonderous cast, and to you for your thorough bio reading. Thank you for supporting theatre in these strange and uncertain times (said in all sincerity, without irony).
Jens Tulio Jens is thrilled to be making his debut with St. Louis Actors' Studio. Favorite theatre credits include Legally Blonde at Washington University in St. Louis and Hair at the Performing Institute of Minnesota. He also recently contributed to various short films at WashU and starred in a commercial for Life Source in Minneapolis, MN. He has trained at the Guthrie Theater and is currently a senior at WashU studying drama."
William Humphrey graduated from Southeast Missouri State University with a Bachelor of Fine Arts Degree in 2014 and has been performing in St. Louis since 2016. Past credits include: Austin in True West (St. Louis Actors' Studio), Steve in The Most Fabulous Story Ever Told (Stray Dog Theatre), and Vincent in a staged reading of Tape (Solid Lines Productions)
Phil Leveling is excited to be working with STLAS on this incredibly relatable Zoom production! He would like to thank everyone at STLAS for the opportunity to work with such an amazingly talented group of people. Finally, he would like to thank his family and friends for all of their love and support. Especially you 3G!
Ebby Offord is a Chicago-based actor and teaching artist. She graduated from Washington University in St. Louis with a degree in Drama in 2019 (favorite credits include: Aunt Dan and Lemon, Son of Soil, and August: Osage County). After graduating, Ebby returned to Chicago to teach with the Institute of Reading Development. She is excited to make her e-return to St. Louis, and her STLAS debut.
Annamaria Pileggi has directed professionally at many St. Louis theatres, including Union Avenue Opera, St. Louis Actors' Studio, New Jewish, Max & Louie Productions, Onsite, That Uppity Theatre, Muddy Waters, Dramatic License, and HotCity.  In addition, Pileggi was also on staff at HotCity as an Associate Director and Co-Producer of the theatre's Greenhouse New Play Development Series from 2007 until the company's closing in 2014.  Recently, she joined St. Louis Actors' Studio (STLAS) as an Associate Artistic Director.  Past productions at STLAS include Blackbird, Tribes, and Annapurna.  Pileggi is a Professor of the Practice in Drama at Washington University in St. Louis, teaching courses in Acting, Movement, Musical Theatre and Theatre for Social Change since 1991.  A five-time recipient of the University's College of Arts and Sciences Faculty Award recognizing excellence in teaching, she also serves as an administrator and acting instructor for the Performing Arts Department's Shakespeare Globe Program in London.  Pileggi has an MFA in Acting from Brandeis University.
Patrick Huber (Associate Artistic Director-Set, Lights) teaches theater, architecture, and art history at Mary Institute and St. Louis Country Day School.  He studied Set and Lighting Design at the Webster Conservatory of Theater Arts, and Dramatic Literature at Washington University.  He has been the resident scenic and lighting designer for ITP in Chicago and Orthwein Theater Company, Shattermask,  Actors' Renaissance Theater, St. Louis Shakespeare, and Upstream Theater in St. Louis. Like most designer he doesn't have any recent work, but he did create a show with his MICDS students that wouldn't have happened if it wasn't for all this weirdness: http://micds.org/after-the-fire. He looks forward to getting back in the Gaslight soon!
Amy J. Paige* (Stage Manager) Amy is proud to be the resident Stage Manager at St. Louis Actors' Studio.  She has stage managed most shows at STLAS over the past ten years including the New York production of Day of the Dog and assisted the NYC LaBute Festivals.  Amy is a proud member of Actors' Equity and the Vice Regional Rep for the Stage Managers Association.  She joins with Actor's Equity and the Stage Managers' Association in celebrating the Year of the Stage Manager 2020/21.  "Once your Stage Manager, always your Stage Manager.
*Member Actors Equity Assoc